OK, so I've had a change of heart lately on a couple of the trends I've been avoiding. As seen with my
hi-lo dress purchase
. And I recently, finally, caved on the colored jeans thing. (I get to wear jeans to work, so avoiding any sort of jeans trend is just plain stubborn and silly.)
What won me over? This
top
. I'll explain.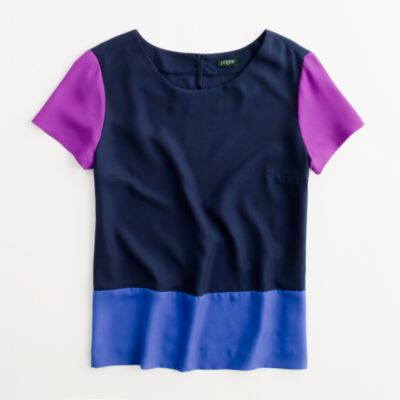 Well, we already know
I love navy
. And I am growing ever enthusiastic on cobalt blue. The combination of those two colors plus a pretty purple (it looks more violet than the fuschia pictured here) is absolutely darling.
So back to the jeans. Through my almost daily browsing of Forever 21's site, I came across a couple awesome pairs of
plum jeans, one of which
made its way into my shopping cart (a birthday gift to myself). The great color combo in the top made me realized just how versatile the plum pants could be, so I'm already lining up plenty of outfits that work with them.
First: pairing them with the
navy blazer seen here
, a laid-back
T-shirt like my Brooklyn one
, and simple navy flats. A fun
fringy necklace
like this would be the perfect accessory.
I'm also thinking about wearing the jeans with my navy polka dot shirt from the
J.Crew factory
, or my classic
Gap boyfriend shirt
in navy (scored with a great Gap online discount), plus a navy/cream striped scarf I picked up in the H&M men's section.
To bring in the cobalt blue, I could always do this
blouse
I bought in the pretty blue shade, or my
favorite blazer from spring
with a simple white v-neck T (I love
Target's
).
A chunky white sweater I thrifted and
black booties
will make a great mod look when paired with the jeans, too. And the ideas just keep on coming.
What about you? Have you come around on any trends? What fall piece has been inspiring you lately?